On Sunday 17 July, the 118 competitors in La Drheam Cup / Grand Prix de France de Course au Large divided into 10 categories sailed off safely from Cherbourg-en-Cotentin in early afternoon, in weather conditions everyone dreams of and a fifteen-knot easterly breeze. It is hard to imagine better conditions. Account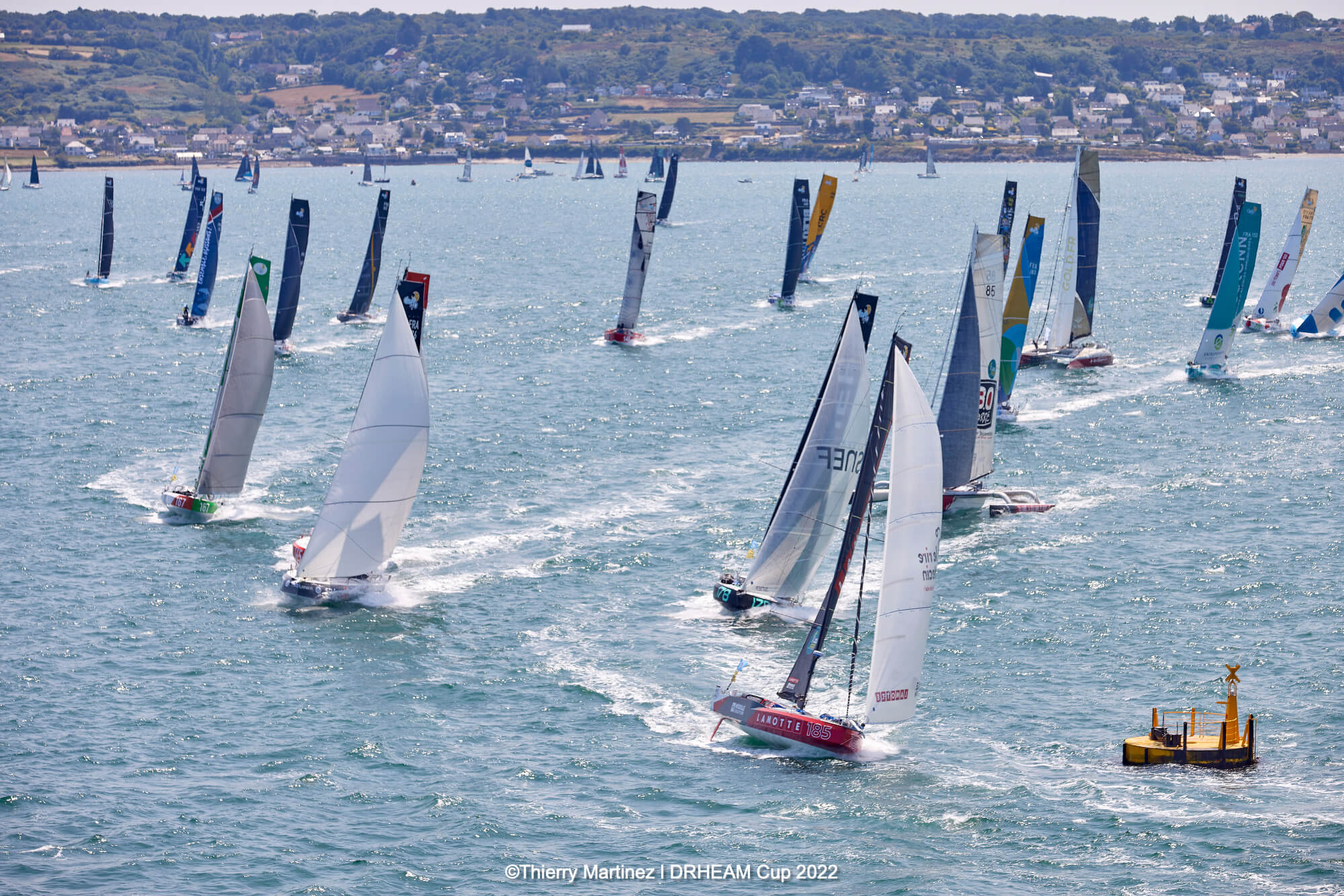 07:15 As the day broke, the pontoons in Port Chantereyne slowly but surely came to life.
08:00 On the pontoon that the IRC boats are berthed, you can see amateur crews, with friends or family, who have slept onboard and are finishing their breakfast al fresco in the cockpit. Just one last round of washing up to do, take out sleeping bags and heavy weather gear, then get the boat back in racing configuration. On the Class40 and Ocean Fifty berths, technicians are already on decks, skippers behind their computers studying the latest weather forecasts, puzzling over the probably passage of a weather front near the Fastnet. Divers are giving hulls a final rub down and technical crews are taking huge toolboxes back to their vans.
09:30 SVR Lazartigue skippered by Tom Laperche, replacing François Gabart who has COVID, enters the large outer harbour of Cherbourg-en-Cotentin flying at 25 knots. Jacques Civilise, creator of the Drheam Cup goes to meet the only Ultime entered, to welcome the crew.
11:30 The pontoons are now crowded. It's the summer holidays and many sailors have come to enjoy this festive week in Cherbourg with family. It is soon time to say goodbye.
11:40 A ferry comes through the Eastern entrance and appears to salute the moored fleet. The harbour walls are crowded. A ballet of boats leaving their berths begins and even though it is slack waters, some port manoeuvres are a bit "rock n'roll".
12:15 Every one is on the water with their mainsails up. Lunchbreak before the start procedure.
13:30 The French Navy's PSP Flamant, whose home base is here in Cherbourg-en-Cotentin, is anchored in the middle of the start line and serves as the race committee boat for the start.
13:50 Most crew members on boats that are sailed single handed have now left and jumped into RIBs. There is 15 knots of unstable wind on a flat sea.
14:50 First of the three starts with blinding accuracy for the Ultime, Ocean Fifty, IMOCA, Grand Monocoques, Rhum Monos. Thibaud Vauchel-Camus (Solidaires en peloton Arsep) crosses the line first and the Ocean fifty fleet speeds by in a tight group at over 28 knots after rounding the offset mark. SVR Lazartigue (Tom Laperche) is flying at over 40 knots as the wind looks like it is strengthening.
14:20 The second start is given for the Rhum Multi, Class40 and Multi 2000. Antoine Carpentier on his Class40 Redman is the first to carve his way out of a very compact fleet. The fight has begun in this fleet of 36 highly motivated crews.
14:40 The third and last start is for Figaro 3, IRC crewed and double handed. Once again, they put on a great show. The young Basile Bourgnon (Edenred) on his Figaro 3 takes the lead.
15:15 The 118 competitors are now sailing downwind towards the South of England and West Shamble. Spinnakers are out. No relief. It will take under 4 hours for the Channel to be crossed for the fastest boats, but they will have to watch out for cargos and ferries on during the crossing… Sunday naps will have to wait.
In their own words:
Patrice Carpentier (JPK 960 Groupe 5 Sarl/ IRC double-handed): "I am sailing with my "old" friend Pascal Jamet, on a course that I love. As long as I can race, I cannot get enough. I sailed in the first Whitbread (crewed race around the world) fifty years ago and since then I haven't stopped. I have just completed 7500 nautical miles in two months, a return trip from Brittany to Martinique, so this Drheam Cup in idyllic conditions will be the cherry on the cake, as Loïck Peyron says."
Tiphaine Ragueneau (Figaro 3 Tiphaine Ragueneau-Objectif solitaire 2023/double handed): "The final evening (yesterday, Saturday) was fairly quiet. We went to bed early to get some good rest. This morning, we checked the latest weather forecasts and we should leave the Channel fairly quickly. From tomorrow evening, on Monday, the situation should get more complicated with storms predicted. We should pass all waypoints and tactical and tricky zones at night. Concerning watch, we will try to be rigorous and alternate two hours on deck and two hours of rest, to be at our best at night. I am a vet, I sailed in my first Drheam Cup and it is only the second time that I sailed double-handed with Paul (Medinger).
Corentin Douguet (Class40 Queguiner-Innoveo/solo sailor): "Cherbourg-en-Cotentin is a great city for a party, but I had a quiet dinner at home. Over breakfast, I began studying the weather forecasts. Crossing the Channel should be fast, reaching under Gennaker, then spinnaker until Lizard point. Then, a lot will happen on the way to up the Fastnet, with fairly complex transitions, and then plenty of wind on a reach, which is never easy when sailing solo. Since my first race on this boat (he won the 1000 Milles des Sables), the fleet has more than doubled (36 competitors), with fierce sailors…"
Christophe Bogrand (Multi 2000 Château du Launay/solo sailor) "It is fantastic to compete in this Drheam Cup in the sun and the weather conditions announced. I am a complete amateur, passionate about the sea from a young age. To me, it is an opportunity to train alone for the Route du Rhum, as well as race against other boats and improve. My 41-foot (12.80) trimaran is a Dick Newick epoxy and wood design, built exactly 40 years ago by Le Jéloux in la Trinité-Sur-Mer. The boat has remained in its original configuration, but I maintain and take care of her. I love her and gain great pleasure from sailing on a trimaran whose DNA cannot be found on other more recent boats."
Quentin Vlamynck (Ocean Fifty Arkema/solo sailor): "This Drheam Cup / Grand Prix de Course au Large is my first solo race on this boat and the aim is to get to La Trinité-sur-Mer to qualify for the Route du Rhum-Destination Guadeloupe. There is a great fleet. I can't wait. We will start very fast, and four hours later, we should have crossed the Channel after sailing straight across at 110 degrees from the wind. Then, if all goes well, we will fly the gennaker all the way to the Fastnet. I will be routed by the meteorologist Eric Mas, who works with Alex Pella and Lalou Roucayrol, which will be a great exercise for the Route du Rhum. I will also use these high-speed reaching legs to get used to sleeping under autopilot, which isn't always easy. I don't have any reference for this yet. Yesterday, I went to bed very early. I needed to sleep. This week was intense, and a week ago I was racing off the Fastnet!"
Oren Nataf (Multi 2000 Rayon vert/double-handed): "This Drheam Cup / Grand Prix de Course au Large is the last step in my solo training for the Route du Rhum. It is the final race with Sidney Gavignet (known for his four races around the world) who has been helping me with my technical and psychological preparation for two years and who will race with beautiful course with me. I bought this Pulsar 50, an Erik Lerouge design that has raced in two Route du Rhum. I am an amateur and ten years ago, I hadn't set foot on a sailing boat before. I am in the unknown, and I still get stressed when I go out to sea."