Competition
New record with 128 boats entered in three distinct courses: 600, 1000 and 1500 nautical miles
Sharing
A major Multi-class race, with 25 children onboard the Class40s
during the prologueas part of the Rêve de Large operation
Celebration
Fireworks at the start, Race village and activities

The 4th edition of the DRHEAM-CUP / GRAND PRIX DE FRANCE DE COURSE AU LARGE will be held in less than two weeks from 13 to 17 July in Cherbourg-en-Cotentin, and from 19 to 24 July in La Trinité-sur-Mer. 128 competitors are expected in 10 classes – Ultimes, Ocean Fifty, Imoca, Class 40, Rhum Multi and Monohulls, IRC, Multi 2000, Figaro 3, Open Monos and among them, many hoping to compete in the next Route du Rhum Destination Guadeloupe.
"We are extremely happy, both with the number of boats as well as the quality of the field. I wish to warmly thank all the competitors who trust us. It is an honour that these skippers, amateurs and professionals, have entered and remained loyal after the previous editions; without mentioning the new faces who will discover the race. All the ingredients needed for a great celebration." Jacques Civilise.
In addition to the competition and sport, in 2022 the RÊVES DE LARGE operation will return in its original format as imagined by Jacques Civilise, who wants to transmit a passion for boats and the sea to the largest number, especially to those who do not have access to it usually: it might inspire future careers.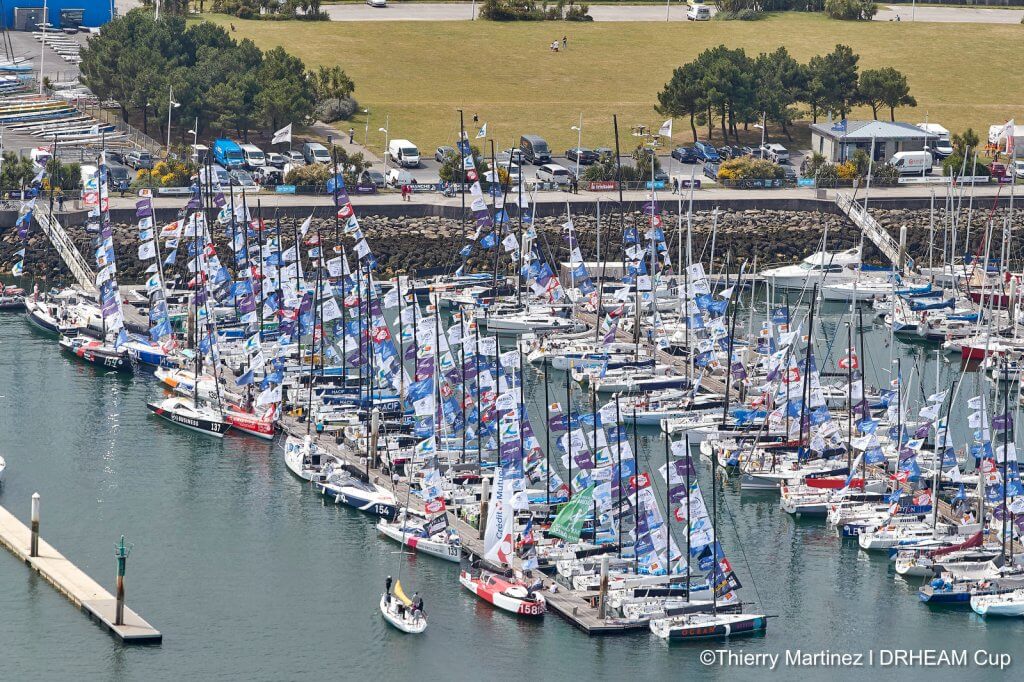 Competition: 10 classes on 3 distinct courses: 600, 1000 and 1500 nautical miles long.
Since its first edition, LA DRHEAM-CUP / GRAND PRIX DE FRANCE DE COURSE AU LARGE has been a multi-class and multi-course race. Each one of the 10 classes accepted will race on a course adapted to their abilities so that the arrivals are grouped and the after-race event includes as many as possible.After competing in the DRHEAM-TROPHY on Friday 15 July, an 11 nautical mile prologue off the coast of Cherbourg-en-Cotentin in front of the beautiful beaches of Urville-Nacqueville, the 10 classes will take the start of three different courses between Cherbourg-en-Cotentin and La Trinité-sur-Mer on Sunday 17 July. "When I designed these courses, I wanted to give skippers loop-shaped trajectories that should enable them to experience all wind directions, upwind, reaching and downwind, combining with the frequently strong currents in the different seas, resulting in a very technical "game" for everyone involved" explains Jacques CIVILISE.
> The DC600 course, 600 nautical miles for Figaro 3, Multi 2000 and IRC: Cherbourg en Cotentin, Shamble West, Wolf Rock, Waypoint Drheam Ouessant, plateau de Rochebonne and la Trinité-Sur-Mer.
> The DC1000 course, 1000 nautical miles for the Class40, Ocean Fifty, Open Large Monohulls, Rhum Mono, Rhum Multi: Cherbourg-en-Cotentin, Shamble West, Fastnet, BXA buoy near Royan and Trinité-Sur-Mer.
> The DC1500 course, 1500 nautical miles pour the Ultim: Cherbourg en Cotentin, Shamble West, Wolf Rock, Isle of Man, Fastnet, Bilbao and la Trinité-Sur-Mer.
Sharing: 25 young people aged 10 to 15 years on 25 Class 40 boats
When launching the DRHEAM-CUP in 2016, Jacques Civilise not only wanted to offer sailors, professionals and amateurs a high-level offshore race, he also wanted to bring together people from different generations and backgrounds to give them an opportunity to share a week-long experience. This explains the Rêves de Large initiative, during which young people are invited onboard boats competing against each other in the DRHEAM-TROPHY, a prologue race specially designed for this. "Our young people need dreams and adventures and from the start I wanted a race that would foster human relations, sharing between the land and the sea and between generations", explains the organiser.
The operation was a great success during the first two editions, with young people and skippers, who were delighted to share their passion and knowledge, and even inspire future careers. In 2016, some twenty children aged 10 to 16, mainly from inland Brittany, stepped on board "real racing boats". In 2018, 18 year 6 children from Morbihan schools came to discover racing on 17 boats in the DRHEAM-TROPHY, enabling them to experience the race from the inside with professional sailors such as Erwan Le Roux, Thierry Bouchard and Armel Tripon in the Multi50 class, Fabrice Amedeo and Manu Cousin on Imoca, Yoann Richomme, Louis Duc, Sebastien Marsset and Loïc Féquet in Class40…
Although Rêves de Large could not be held in 2020 because of the Covid pandemic, it will make a comeback during the LA DRHEAM-CUP/ GRAND PRIX DE FRANCE DE COURSE AU LARGE 2022. "Supported by the Cherbourg-en-Cotentin youth services and community centres, 25 young people aged 10 to 15 who have never been on a sailing boat will be invited to take part in the prologue on Friday 15 July from 11:00 am to 03:00 pm. The CLASS40, suitable for this "mission" with many entered this year for the race that is part of their World Championship, were chosen for the event. To enable the young people to get to know their skipper, a briefing followed by a snack will be held the day before. The young sailors and their families will also be invited at the end of the afternoon on Friday 15 July to the DRHEAM-TROPHY prizegiving ceremony, where they will be awarded a medal. " explains Jacques Civilise.
Celebration:
For the 4th edition of the DRHEAM CUP / GRAND PRIX DE FRANCE DE COURSE AU LARGE, the City of Cherbourg-en-Cotentin will set up a race village on the "green beach from 13 to 17 July. For five days, free events, shows, concerts and trips at sea will be organised, in a festive and seaside atmosphere. "To enable the public to fully enjoy the special atmosphere at the start of a race, the City has really put everything in to the events on land and at sea!", Muriel Jozeau-Marigné, deputy in charge of tourism, marinas, watersports and nautical activities at the Cherbourg town hall. On the programme: salsa dancing classes for beginners, cooking workshops, sea shanties, French Navy bus, naval firefighting stand, diving initiation, climbing course, home ball, parkour display, remote controlled sailboats, ropework workshop, rowing initiation, boat trips on J80, SNSM lifeboat association stand… all the events in the race village are free.
All the festivities and events in Cherbourg-en-Cotentin as well as practical information are listed in the leaflet attached.
————————————-
In their own words:
Maxime Mesnil ( Axesail-Issartel-Sarbacane /IRC double-handed): "It will be my first participation and it is all the more symbolic as I come from Cherbourg and work at the Yacht-Club, as a coach for IRC and Class 40. For the past few years, I mainly did match-racing (he is a several-times French Champion and currently 4th in the world rankings), I raced in ten Tour de France à la Voile on Farr 30, M34 and Diam. Axe-Sail, J Composite dealer in Cherbourg and the Incidence sailmakers have loaned me a J99. With my tactician Hugo Feydit (former member of the French 470 team), we raced double-handed in the 2021 Fastnet Race and I am delighted to be participating in the DRHEAM-CUP. I missed offshore sailing and it is a great opportunity to race this superb course with Hugo. We often cross the channel to take part in RORC races, and leaving from Cherbourg on a race that is the same length as the Fastnet (600 nautical miles) is just fantastic! I can't wait". 
Catherine Chabaud (Formatives Network / Rhum mono): "I am delighted to take part in my first DRHEAM-CUP on a boat (known as the Red Cigar, 6 circumnavigations completed) that I know well as I raced on her the 1996-1997 Vendée Globe and later she was bought by my partner Jean-Marie Patier. I ended my offshore racing career twenty years ago and am very committed to the protection of oceans and the coast; I still love solo sailing as much, even if I haven't done much in the past twenty years. I speak of the sea almost every day, but no longer go on it and I miss that. I am about to turn 60 and have set myself a little challenge. I decided to take part in a few races this year, including La DRHEAM-CUP / GRAND PRIX DE FRANCE DE COURSE, which should enable me to qualify for the Route du Rhum. It's a great race and the boat has raced in all previous editions. When Jean-Marie Patier took part to qualify for the Route du Rhum four years ago, he was sailing solo, but took a media man, Lionel Lemonchois!"
Charles Caudrelier (Maxi Edmond de Rothschild / Ultimes): "We won the last edition on Maxi Edmond de Rothschild and I am delighted to be back to defend our title, as it's a great event with many boats, and a great organisation. Since we do not have that many races for the Ultime class, La DRHEAM-CUP enables us to race with a crew (there are six of us plus a media man), on a very nice course. However, we have to be very careful in the fishing grounds near the Isle of Man, because with our foils, if we catch a net at 35 knots, it can cause problems…"
————————————-
The Drheam-Cup / Grand prix de France de Course au Large in 10 figures
3. The number of courses depending on the class, with the prologue.
4: 4th edition of la DRHEAM-CUP / GRAND PRIX DE FRANCE DE COURSE AU LARGE (previous editions in 2016, 2018, 2020).
7. Number of local institutions involved: Cherbourg-en-Cotentin town hall, the Cotentin Council, the Manche Département, the Normandie Region, La Trinité-sur-Mer town hall, the Auray Quiberon Terre Atlantique council and the Morbihan Département.
10. The number of classes taking part.
28. The number of partners, apart from local authorities.
35. The number of professionals involved in the organisation.
75. The number of contractors
128. The number of competitors, boats from 9.50 metres to 32 metres.