The 4th edition of the DRHEAM-CUP / GRAND PRIX DE FRANCE DE COURSE AU LARGE will be held in exactly four months, from 13 to 17 July in Cherbourg-en-Cotentin, and from 19 to 24 July in La Trinité-sur-Mer. Over a hundred boats from 6.5 metres to 32 metres are expected to take part. The instigator of the race, Jacques Civilise, confides in us.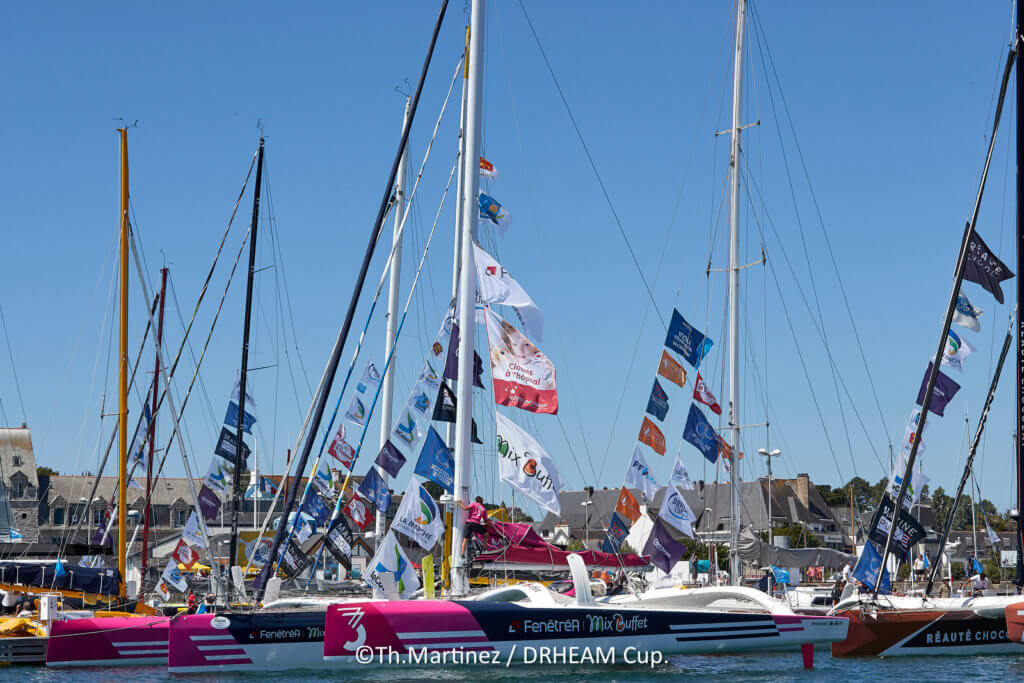 Supported by a core group of 30 professionals, as well as 75 contractors, Jacques Civilise has stopped counting time spent preparing the 4th edition of the DRHEAM-CUP / GRAND PRIX DE FRANCE DE COURSE AU LARGE. He admits thinking only of that for the past six years, day and night, Saturdays and Sundays. He has retained the enthusiasm of a "junior", and concedes that it is as much work as running a company.
We have a "DRHEAM" CUP!
A passionate Sailor, Jacques Civilise was born in Guadeloupe with his feet in the water and arrived in mainland France at the age of seven. He first began sailing in Cherbourg-en-Cotentin. His professional career was exemplary and he raced as much as possible, mainly in the Channel and Atlantic, before deciding to organise the race of his dreams after 50 years on deck as an "enthusiastic amateur".

This offshore race, between 600 and 1500 nautical miles, was obviously named the DRHEAM-CUP, with an H! "DRHEAM is the acronym for Développement des Relations Humaines Et Applications Management (Development of Human Relations and Management Applications). It is a management model that I invented over twenty years ago" explains Jacques Civilise. This self-taught man began working at Renault at the end of the sixties and soon climbed the ladder thanks to his ability to analyse and find solutions. "I was noticed as a "young person with potential", enabling me to follow very comprehensive training courses in the company for several years, in law, finance, management, psychology, international trade, etc…" he explains with a smile.
That's how Jacques Civilise rose up the ranks to the management of the company's innovation programmes, with free reign to bring them to completion: "I was like a skipper during a race. I was given the destination, but was free to choose my crew, the route, strategy in a truly "cooperative" manner." He then began working with major companies, as the manager of his own Consultancy firm, even working with Formula 1 and the America's Cup.
The organisation of la DRHEAM-CUP / GRAND PRIX DE FRANCE DE COURSE AU LARGE is naturally inspired by this model. "To achieve this, the strategy and event side must be coordinated with the local authorities, sporting authorities with the Federations and clubs, harbour authorities in the ports of departure and arrival, the Préfecture Maritime and DDTM, financial, legal, administrative, logistics, technical, IT, digital and security partners, particularly in the towns of departure and arrival…and it goes without saying in the last editions, restrictions due to the pandemic."
With Jacques, there is a solid Team of 30 people who have all the professional skills required to develop the aforementioned activities, with Hervé Gautier at the head of the Race Authority for example "a reinforced team with 6 entities, to orchestrate Communications and Press Relations, from a graphic designer to press officer, a community manager, a video production company, photographers, etc."
"We have also worked hard to make skippers' lives easier by developing a rather sophisticated online entry system, that works well and intuitive according to the feedback from experienced racers", explains a delighted Jacques, who likes new technologies.

A full house?
It is too soon to say, since we are 2 months away from the deadline for entries, which opened at the Paris Salon Nautic in December.
There were 44 entries in the first edition in 2016, twice as many two years later and 104 in 2020, despite the pandemic. This year, apart from the Imocas who will be racing the Vendée – Arctique – Les Sables d'Olonne, all the classes of boats have saved the dates of the DRHEAM-CUP / GRAND PRIX DE FRANCE DE COURSE AU LARGE in their diary, starting with the candidates for the 12th edition of the Route du Rhum Destination Guadeloupe, as the race is a qualifier for the transatlantic race. There might not be space for late comers, for port logistics reasons at the start and finish.
"The DNA of the DRHEAM-CUP / GRAND PRIX DE FRANCE DE COURSE LARGE is a tryptic – very high-level competition, sharing between professionals and amateurs and celebration on land."

---
In their own words:
Jean-Luc Denéchau, president of the FF Voile: "The DRHEAM CUP / GRAND PRIX DE FRANCE DE COURSE AU LARGE is now part of the legend"

Armel Le Cléac'h, skipper of Banque Populaire, competing in Ultime: "It is the multi-class race that was missing in the French race diary. It is the equivalent of the Rolex Fastnet Race or the Sydney-Hobart. The format is a success, there is something for everyone, it is a great event."
Charlie Capelle, skipper of Acappela, competing in Multi 2000: "The mix between Class40, Figaro, IRC, Multi50, Multi 2000 and others enables all owners to race and sail in a wonderful fleet. It's what makes the charm of this race."
Hervé Gautier, race manager: "It's my second Drheam Cup as Race Manager. I really like the format of this race. I have taken part in many races like this one – Fastnet Race, Middle Sea Race, Bermuda Race, Caribbean 600. It is both a sprint and an endurance test, typically the type of race in which very good amateurs can rival professionals. This mix between offshore racing headliners and more occasional racers is truly the salt of the race."

Pierre Leboucher, winner in the Figaro double-handed class with Benoît Mariette in 2020: "Not only is it the ideal race to prepare for La Solitaire, because we cross the channel twice and sail around Brittany, there is also a unique and festive atmosphere. In the monohull categories, we will race against all types of boat, mini 650s, IRC, Rhum monohulls, etc. It is a change from pure one-design racing…"