A few minutes after leaving the pontoon in Port Chantereyne in Cherbourg-en-Cotentin at noon on Sunday, Sidney Gavignet, the experienced crew for amateur sailor Oren Nataf on the 2004-built Pulsar 50 designed by Erik Lerouge, predicted he would arrive on 19 July towards the end of the day. One of the most experienced French offshore sailors, with an uncountable number of miles around the world on all types of racing boats, seldom gets it wrong. After 2 days, 2 hours and 47 minutes, Rayon Vert crossed the finish line in La Trinité-sur-Mer on Tuesday 19 July at 17 hours and 7 minutes, winning not only in his Multi 2000 category, but also taking line honours ahead of the 111 competitors still racing. The particularity of the Drheam Cup created by Jacques Civilise in 2016, which has become a classic event in six years and three editions, is not only that it is open to both professional and amateur sailors, it also imposes different courses depending on the size and performance of the boats, so that they can finish the race in a similar time. Then, because weather isn't always an exact science, it arbitrates between. Not only did Rayon Vert always have wind to power her from the start, it was almost always on a downwind tack. "It was champagne sailing, constant wind and moderate sea conditions! It was completely magical" explains Oren Nataf modestly.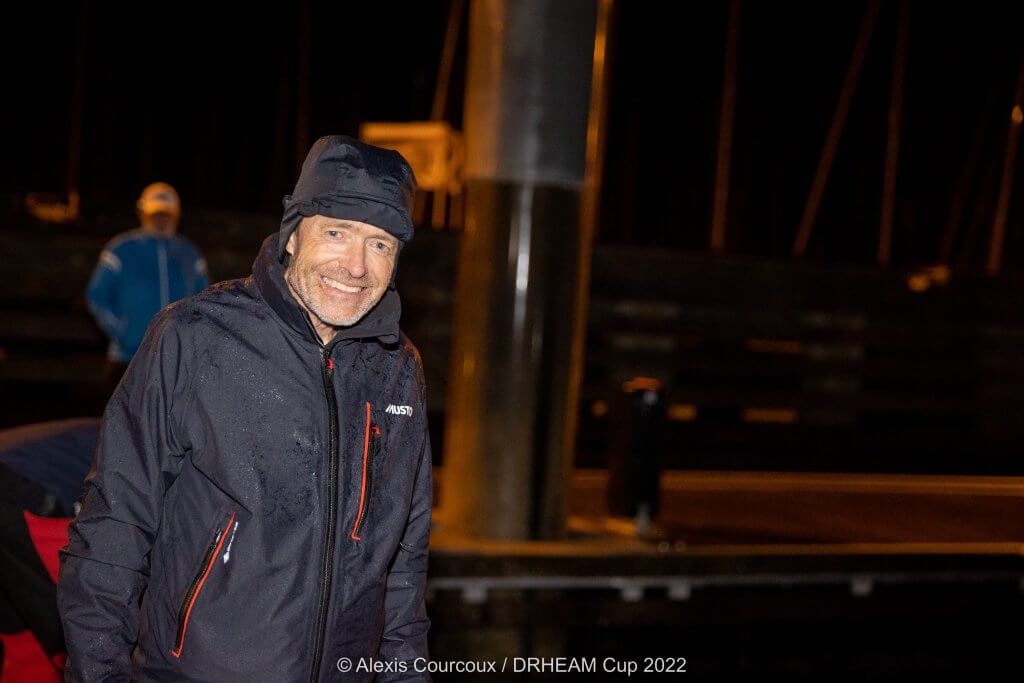 The skipper and owner of Rayon Vert's face is still covered in salt. "Our last night was quite challenging with violent storms and a squall gusting at 35 knots while we were gibing. But everything went perfectly well. This Drheam Cup was great training. The course is absolutely brilliant, we were able to push the boat to finds its limits. In Cherbourg-en-Cotentin, we prepared routings at 85% of the polars, but we were often at 120%. Of course, alone, I wouldn't have pushed so hard as I don't have the experience." "This boat is very seaworthy", adds Sidney Gavignet, the co-skipper. "She easily reaches 20 knots, the central hull never lifts and is really suitable for the Route du Rhum, as it has no spinnaker and a very sound deck. Oren is a very good sailor, very diligent and concentrated. Sailing with him was brilliant, even more so as I hadn't raced in a while."
Arrivals will continue throughout the night with the probable victory of the Swiss crew on Kuka 3 (Franco Niggeler) in IRC crewed, then the Ultime SVR Lazartigue skippered by the young Tom Laperche expected around one o'clock in the morning, the only boat racing on the 1000 nautical mile course. In complex weather conditions due to a large low-pressure area that isn't active but produces vicious squalls, Xavier Macaire (Groupe SNEF) is in the lead, shoulder to shoulder with Antoine Carpentier (Redman) in Class40. Ian Lipinsky (Crédit Mutuel), who was sailing in contact with the leaders, informed the Race Authority towards the end of the afternoon that he was retiring after a powerful wave brutally lifted one of his rudders while he was sailing at 20 knots. Louis Duc (Fives-Lantana Environnement) is making progress on his Imoca. Erwan Le Roux (Koesio) and Sébastien Rogues (Primonial) are within AIS reach in the Ocean Fifty class, and Catherine Chabaud (Formatives Network) is leading the Rhum Mono class at just over 460 miles from the finish. Marie Tabarly does justice to her sorely missed father Eric, in the lead in the Open Grands Monocoques category on the legendary Pen Duick VI.
Capsize alert:
At 16:40 today, while he was sailing in thirty knots of wind, 60 nautical miles south of the Fastnet, Loïc Escoffier alerted his brother Kevin that his catamaran Lodigroup catamaran. He was leading in his category. Loïc is doing well and is inside his boat, in safety. The Race Authority was informed and has contacted the nearest competitors so that they can provide assistance to Loïc. The team and the Race Authority are in contact to organise rescue operations.
In their own words:
Quentin Vlamynck (Ocean Fifty Arkema) "I am currently sailing at 23 knots average, right near the winches, ready to sheet out! The others have been going like missiles from the start. Coming back has been hard. They have been making very few mistakes. As for me, I am learning to push harder, and I rest as soon as the weather conditions let me. Sail changes, stacking… I haven't stopped. The night was difficult, with squalls and light wind areas that weren't easy to navigate. I have had up to 35 knots of wind. No fun at all…"
Tom Laperche (Ultime SVR Lazartigue): "We spent quite a long time flying at 40 knots on the same side to cross the Channel, it was very fast, on flat seas. Other than that, the fastest we got tonight was 43 knots, running in a thunder storm…"
Sebastien Rogues (Ocean Fifty Primonial): "We rounded the Fastnet as leaders in the Drheam Cup and that was great! I lowered the gennaker and raised the J1, as there is a closed-hauled tack expected. We will be caught up by a trough (low pressure area between two high pressure areas) with North-Easterly winds. I won't go into the details, but all is well onboard."
Corentin Douguet (Class40 Quéguiner Innoveo) "I passed the Fastnet. I am failing at everything I have tried in this race. I think I should have gone on holidays a bit earlier. There is a background of fatigue, and when you aren't doing well, small technical problems build up, like a 250 litre ballast that empties in the boat, my watch also stopped working… They are small irritations that are wearing and on top of that there isn't much wind."